A recent Rough Guides publication has ranked the top 20 most beautiful countries in the world for 2019, and unsurprisingly, Scotland ranked #1!
Readers said the primary reasons for selecting Scotland – apart from the delightful locals – was its, "wild beaches, deep lochs, and craggy castles".
Top 10 Most Beautiful Countries in the World:
1. Scotland
2. Canada
3. New Zealand
4. Italy
5. South Africa
6. Indonesia
7. England
8. Iceland
9. United States
10. Wales
While this comes as no surprise to us, after all, Scotland is renowned for its natural beauty and has inspired multiple famous authors and their respective works, the result has sparked a lot of debate online.
J.K Rowling, who wrote all her Harry Potter novels while living in Scotland, said of the country: "It is one of the most hauntingly beautiful places in the world, the history is fascinating, the men are handsome, and the whisky is delicious."
With all of this in mind, we at Braw Scottish Tours have compiled a list of our top 3 destinations that our guests always mention when discussing how beautiful our wee country is!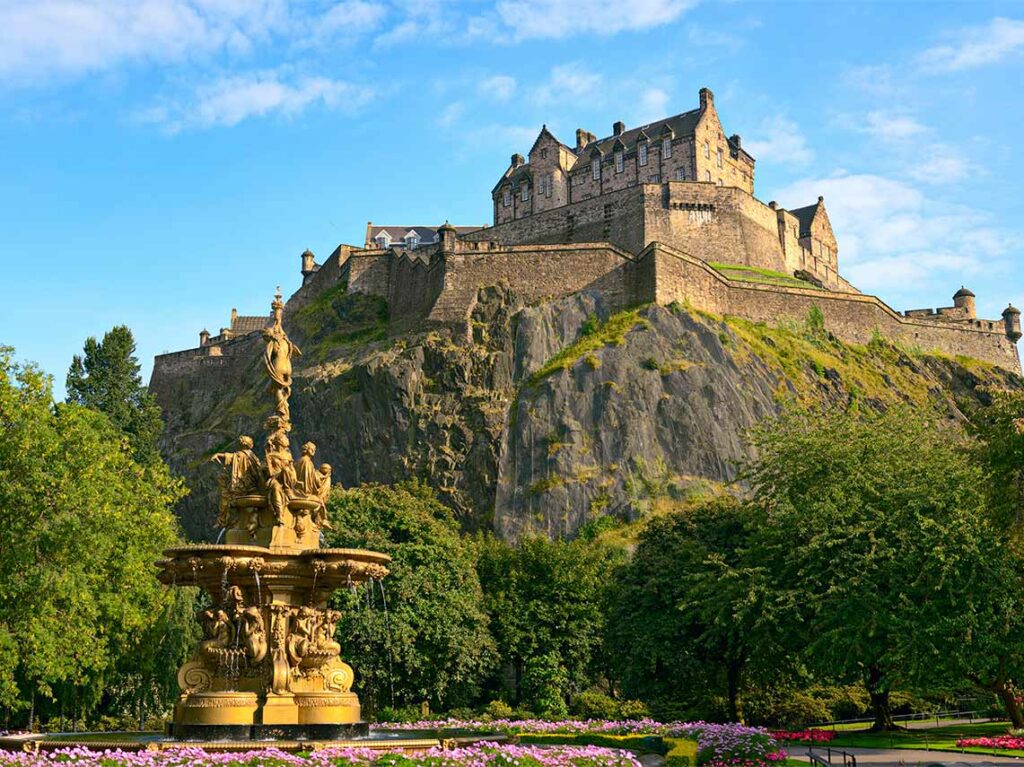 The Historic & Majestic City of Edinburgh
Edinburgh, the capital city of Scotland, is a city steeped in history and culture. The city boasts a wealth of stunning architectural landmarks, as well as a variety of natural sites and outdoor spaces that make it a beautiful destination for visitors.
One of the most iconic sites in Edinburgh is Edinburgh Castle, a historic fortress that sits atop an extinct volcano in the heart of the city. The castle offers stunning views of the city and its surroundings, as well as a range of fascinating historical exhibits and attractions, including the Scottish Crown Jewels.
Another must-see destination in Edinburgh is the Royal Mile, a street that runs from Edinburgh Castle to the Palace of Holyroodhouse. The street is lined with historic buildings, shops, and restaurants, and is home to a variety of museums and galleries, including the famous National Museum of Scotland.
Edinburgh is also home to several beautiful parks and outdoor spaces, including Princes Street Gardens, which offers stunning views of Edinburgh Castle and the surrounding cityscape. Arthur's Seat, a peak in the center of the city, provides breathtaking panoramic views of Edinburgh and the surrounding countryside.
Finally, Edinburgh is renowned for its stunning Georgian and Victorian architecture, including the iconic buildings of the New Town and the Royal Botanic Garden Edinburgh, which is home to a variety of rare and exotic plants from around the world.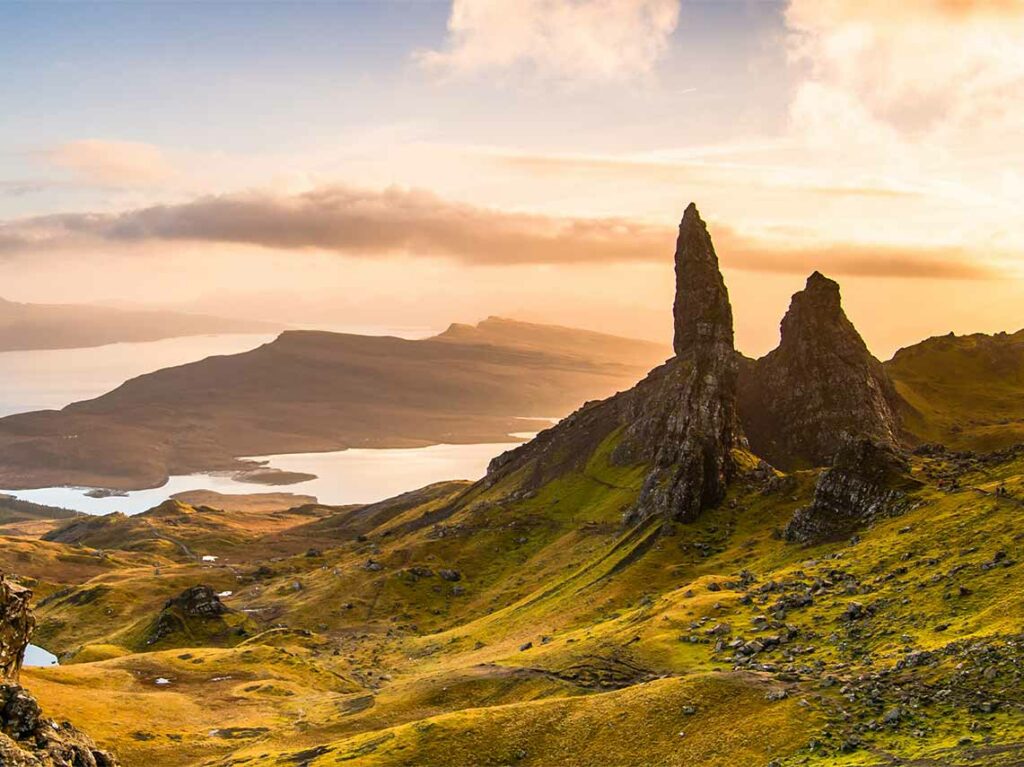 The Stunning Isle of Skye
The Isle of Skye, located on the west coast of Scotland, is renowned for its natural beauty and dramatic landscapes. The island's rugged terrain is the result of centuries of geological activity, which has created unique rock formations, steep cliffs, and deep valleys. 
Visitors to Skye can enjoy exploring the island's stunning landscapes, from the Cuillin Mountains' towering peaks to the Trotternish Peninsula's rolling hills.
One of the most iconic sites on Skye is the Old Man of Storr, a towering rock formation that rises over 160 feet above the ground. The Storr is surrounded by breathtaking scenery, including rolling hills, sparkling lochs, and steep cliffs, making it a popular destination for hikers, photographers, and nature lovers.
Another must-see site on Skye is the Quiraing, a stunning landscape of rock formations, rolling hills, and steep cliffs. Visitors can hike along the winding paths that lead through the Quiraing, taking in the breathtaking views of the surrounding landscape.
The Fairy Pools, located in the Glenbrittle area of Skye, are another popular destination for visitors. These crystal-clear pools are fed by streams flowing down from the nearby mountains, and their vibrant blue and green hues make for a truly magical sight.
In addition to these natural wonders, Skye is home to several historic castles, including Dunvegan Castle, Scotland's oldest continuously inhabited castle. Visitors can explore the castle's many rooms and learn about its fascinating history, which dates back over 800 years.
Overall, the combination of Skye's unique geological features, stunning landscapes, and rich history make it a truly beautiful and captivating destination.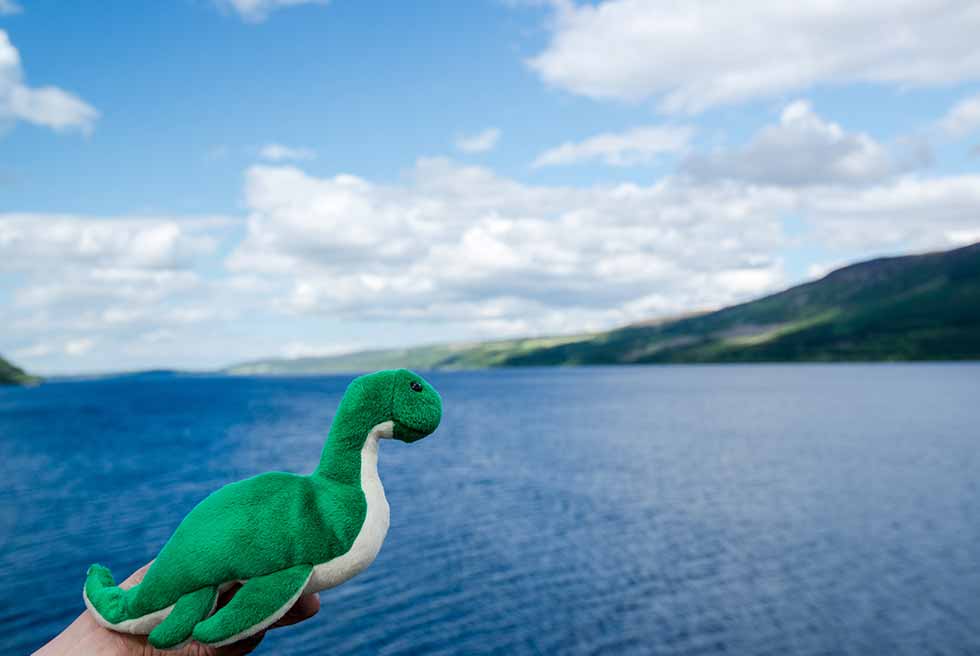 Loch Ness and Beautiful Surrounds
Loch Ness, located in the Scottish Highlands, is one of Scotland's most famous bodies of water, renowned for its breathtaking natural beauty and mythical creatures. The loch and its surroundings are home to a variety of stunning sites that make it a popular destination for visitors.
One of the most iconic sites on Loch Ness is Urquhart Castle, a ruined castle that dates back to the 13th century. The castle is situated on the shores of Loch Ness, and visitors can explore its many towers and battlements while taking in the stunning views of the loch and surrounding countryside.
Another popular destination on Loch Ness is Fort Augustus, a charming village located at the southern end of the loch. The village is home to a series of locks that are part of the Caledonian Canal, as well as several restaurants, cafes, and shops. Visitors can also take a boat tour of the loch from Fort Augustus, providing an up-close look at the loch's stunning scenery.
In addition to these sites, Loch Ness and its surroundings are home to a variety of outdoor activities, including hiking, fishing, and wildlife watching. The loch is also renowned for its mythical creature, the Loch Ness Monster, and visitors can learn about the legend and search for the creature on various tours and cruises.
Overall, the combination of Loch Ness's stunning natural beauty, historic sites, and outdoor activities make it a truly beautiful and captivating destination.
Include these Beautiful Locations on Your Scottish Vacations
What do you think of the results? Have you been, or are you planning to go, to Scotland?
Braw Scottish Tours offers a wide variety of bespoke private group tours of Scotland, allowing you to discover the beauty of Scotland on your own terms. Browse our private tour packages here, or if you'd like something that you don't see on our menu of packages, you can request a custom tour here.
Scotland is famous for more than just its beauty and the locations listed above; its historic & breathtaking range of golf courses and whiskey distilleries mean it's known as "The Home" of Whiskey and Golf respectively.
From Golf, Castles, and Whiskey tours to famous film locations or a blend of everything, Braw Scottish Tours is the perfect place to start your discovery of Scotland.