7 Day Private Tour of Scotland Itinerary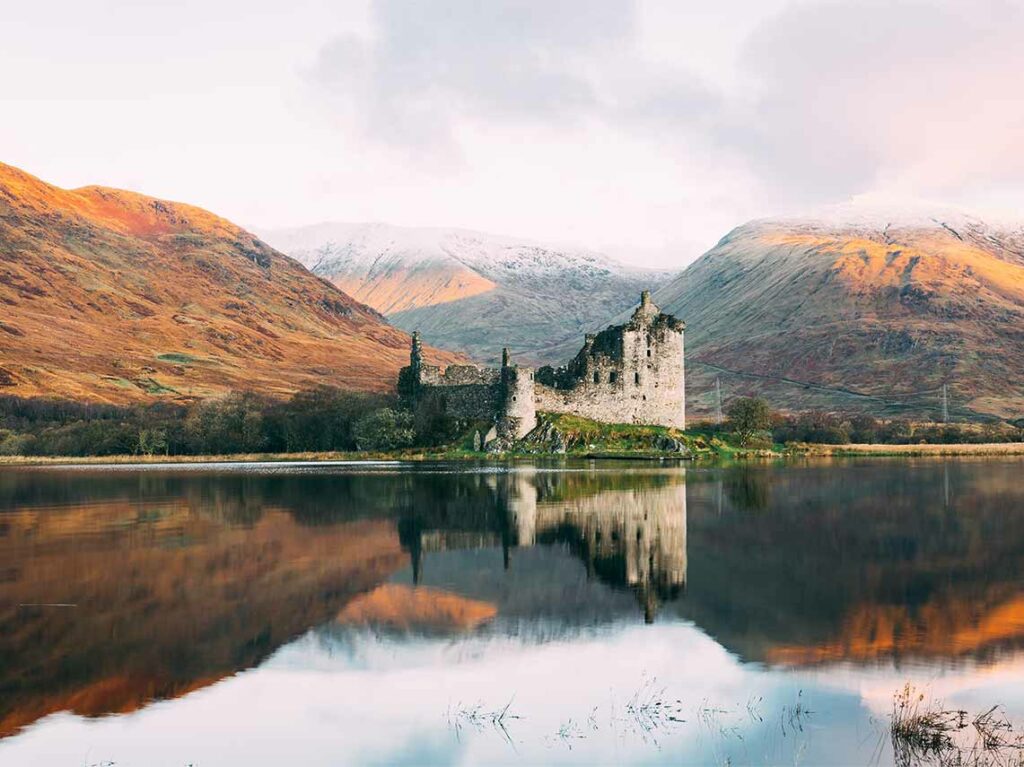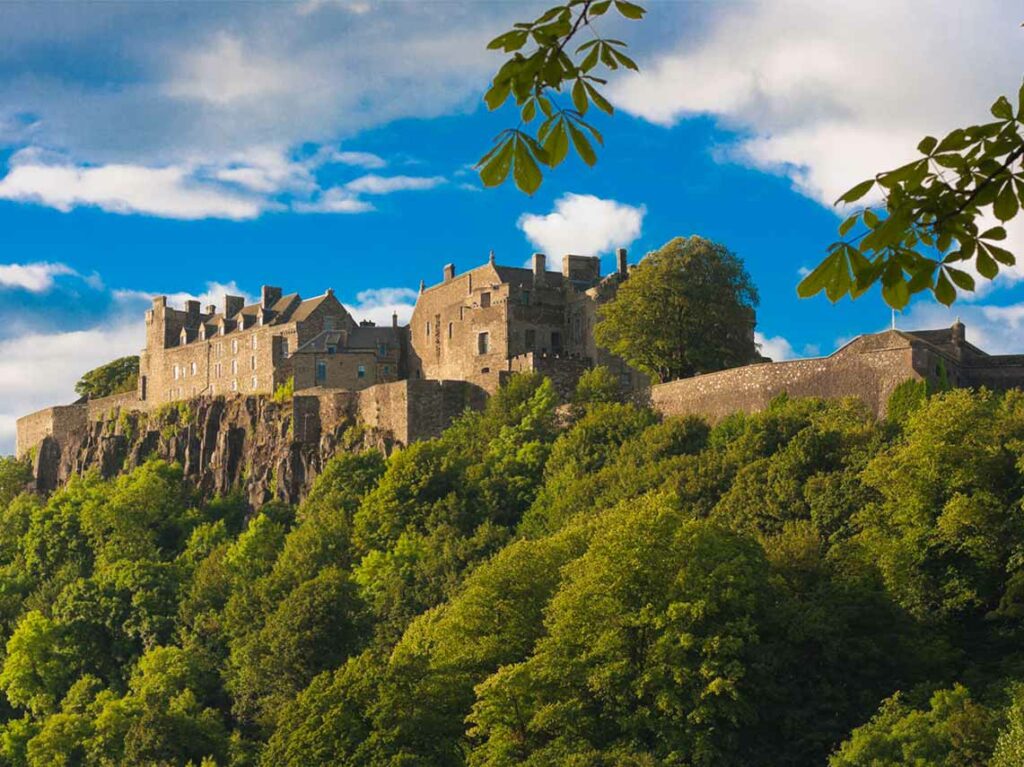 Scottish Private Tours tailored To Suit You
The itineraries we offer on our site are a template, where we hope you can find out more about what you'd like to do and see in Scotland, before getting in touch with our expert travel planners to design you a fully customized and truly unforgettable private tour!
Day 1: Arrival - Loch Lomond - Luss - Inveraray Castle - Kilchurn Castle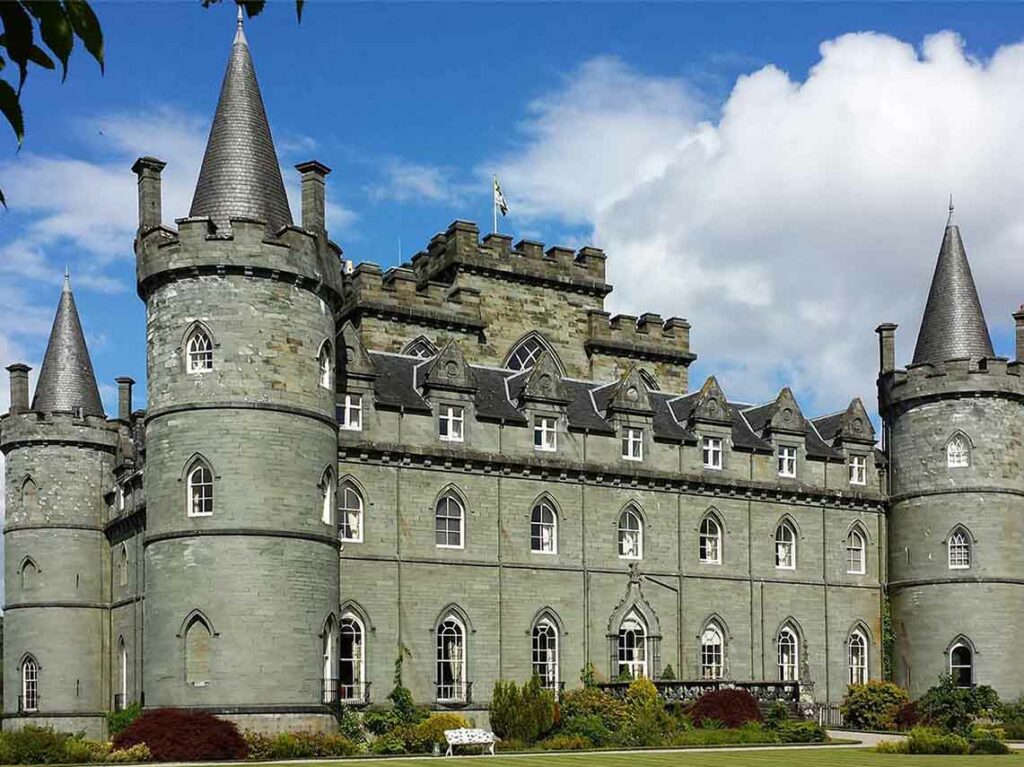 This exciting week-long private tour of Scotland begins in Glasgow or Edinburgh airport, where your driver-guide will be waiting to collect you off your long flight, welcome you warmly to our bonnie wee shores, before whisking you away in a luxury vehicle for a truly unforgettable tour of Scotland.
Our first stop after leaving Glasgow or Edinburgh is the storied Loch Lomond. Your driver-guide will take you on a scenic drive around the southern edge of the loch before stopping at the charming town of Luss. You'll take a short tour of the town, perhaps stopping at one of the local restaurants for lunch before you continue your journey up the stunning West Coast of Scotland, eventually reaching the town of Inveraray.
The main attraction of the town is its beautiful castle, complete with gorgeous gardens and grounds for you to explore. Following your guided tour of Inveraray Castle, the next stop is a mere 20 minutes north at Kilchurn Castle – stunning ruins seemingly floating off the treasured Loch Awe that had been originally constructed as far back as the mid-15th century.
Once you've finished your tour of the castle, your driver-guide will take you on another beautiful drive to the coastal town of Oban – where you'll find your accommodation for the first night in Scotland.
Throughout the evening you may want to explore the town of Oban, which offers visitors a plethora of excellent traditional bars and restaurants to keep travelers entertained.
Day 2: Isle of Mull - Isle of Iona or Tobermory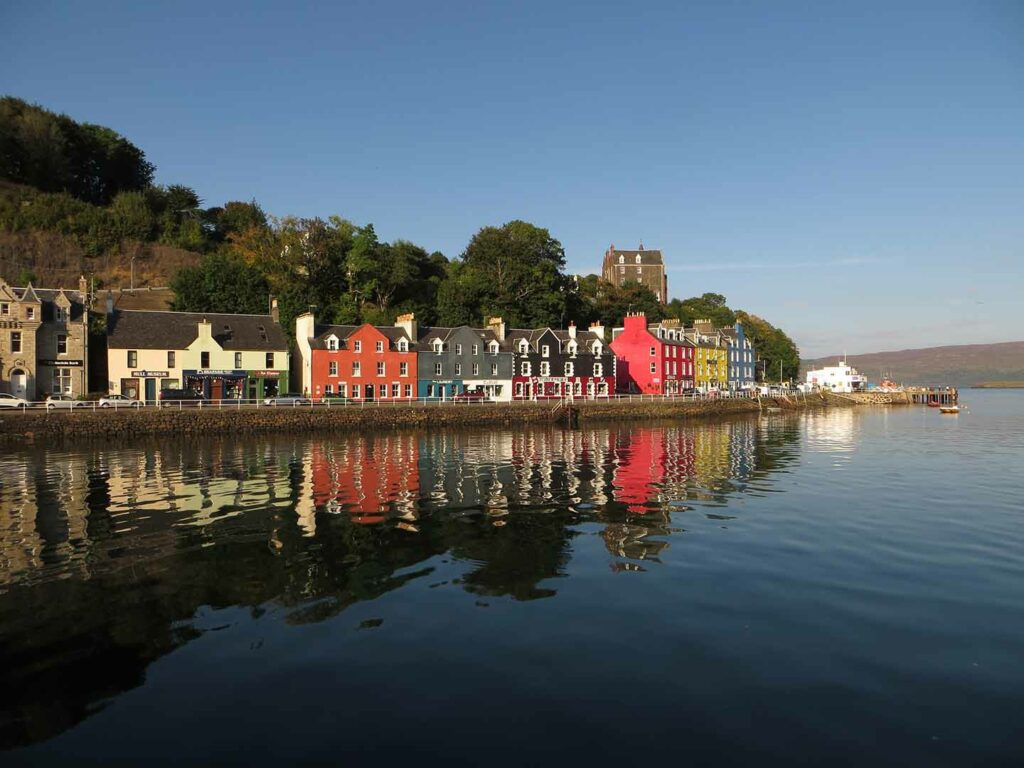 On the second day of your tour of Scotland, we take a short ferry from Oban to the wonderful Isle of Mull.
Following a short tour of the island, you can choose between a day trip to the Isle of Iona – mainly known for Iona Abbey which was the center of Gaelic monasticism for three centuries – and a longer tour of the island with a visit to Tobermory – the island's main town.
The Isle of Iona
The Isle of Iona is only able to boast a population of 35 but has become a popular destination for spiritual retreats, known for its tranquillity and natural environment. We'll take a tour of the abbey and enjoy some nature walks around the island before catching the evening ferry back to Mull and to your accommodation for the night.
Tobermory
If you choose to explore Tobermory, we'll begin with a guided tour of the town's beautiful Main Street. The buildings here – predominantly shops and restaurants – are decorated with an array of bright colors which has led the town to become a popular source of inspiration for television programs such as 'Balamory' as well as numerous famous paintings.
Tobermory also features a great whisky distillery as well as an arts center, but to truly understand the beauty of the town, we recommend hiking some of the surrounding mountains for stunning views of both Tobermory and the Scottish Inner Hebrides.
Finally, after a long day of exploring, we'll catch the ferry back to Oban and your accommodation.
Day 3: Oban - Glencoe - Fort William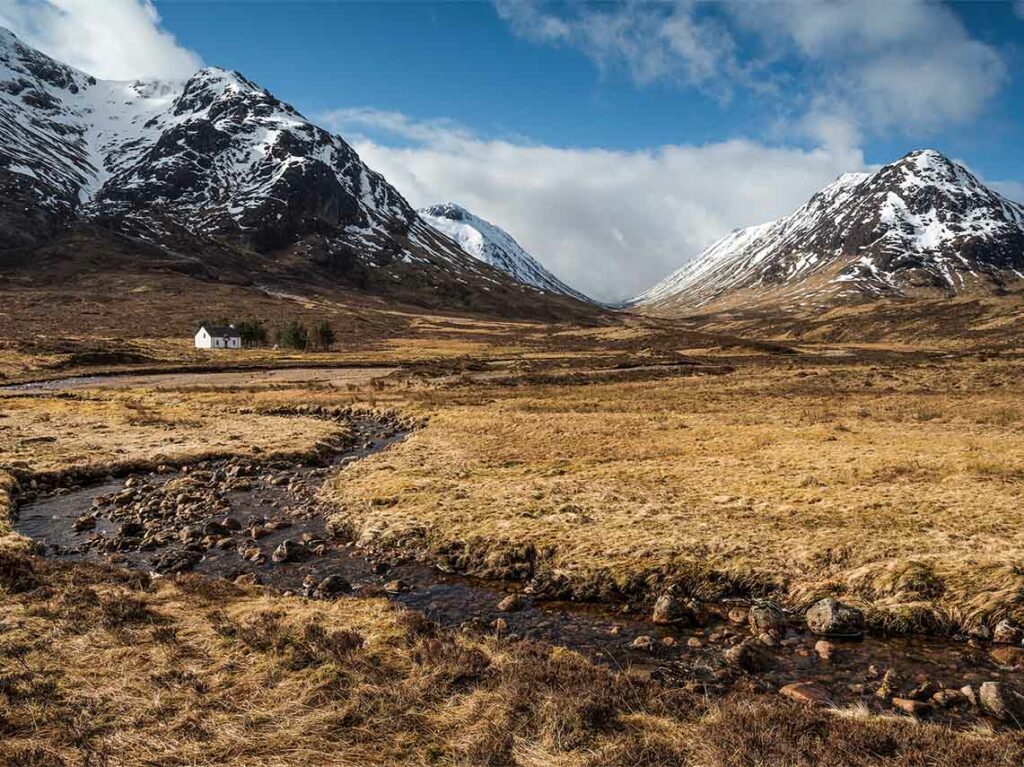 Today we'll continue our journey up the West Coast of Scotland to the magnificent Glencoe Mountains.
We'll stop near the famous 'Three Sisters', for some pictures before setting off on one of the various hikes in the area to truly appreciate the mountain range and its' views from the top.
The areas around Glencoe have hikes suitable for a wide range of activity levels so don't worry if you don't want to climb up to the top – we'll still manage to get to some incredible viewpoints.
Once you're safely back in your luxury vehicle, we'll continue north to the beautiful town of Fort William – where you'll be staying on the third night of your tour.
If we still have time left in the day, you may wish to visit the Nevis Mountain Range where you can take a gondola trip for glorious views over Scotland's famed west coast before setting down for the night in Fort William.
Perfect!!! The best tours we have ever experienced. It was the best experience we ever had; the guides were extremely knowledgeable and just fun to be with. They couldn't do enough for us and were so reliable.
Day 4: Loch Ness Tour - Inverness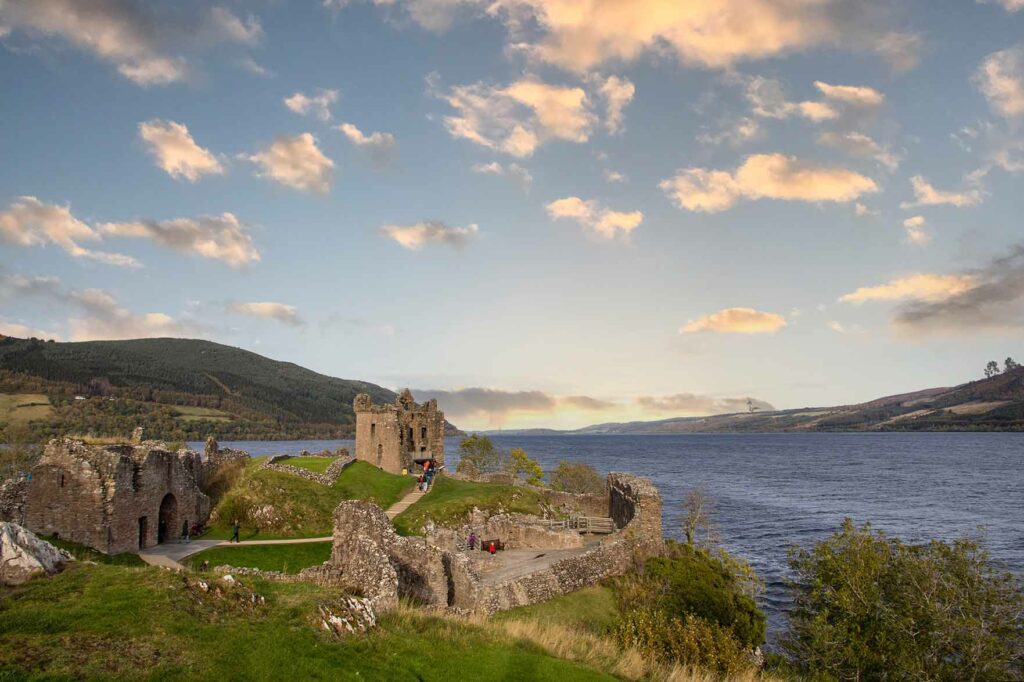 On the fourth day of your private tour of Scotland, your driver-guide will take you from Fort William to the self-proclaimed capital of the north: Inverness.

Before we reach the city, however, we'll be taking a tour of the most famous loch of them all: Loch Ness. Your tour of Loch Ness will start with a scenic drive around the edge of the loch stopping at the ruins of Urquhart Castle – which dates back to the early 14th century. The castle sits on the edge of the loch, previously used as a strategic military fortress before later being destroyed in 1692 to prevent the Jacobite forces from claiming it.

Following your guided tour of the castle, you'll be taken on a private cruise of Loch Ness itself where you'll be treated to traditional food platters and whisky tastings.

Your driver-guide will then collect you off your boat and deliver your group to your accommodation in Inverness City. The center of Inverness is filled with excellent dining options for the evening as well as many a traditional bar to showcase your potentially newfound appreciation for Whisky (other drinks are also available… most of the time).
Day 5: Blair Castle - Pitlochry - Dunkeld Cathedral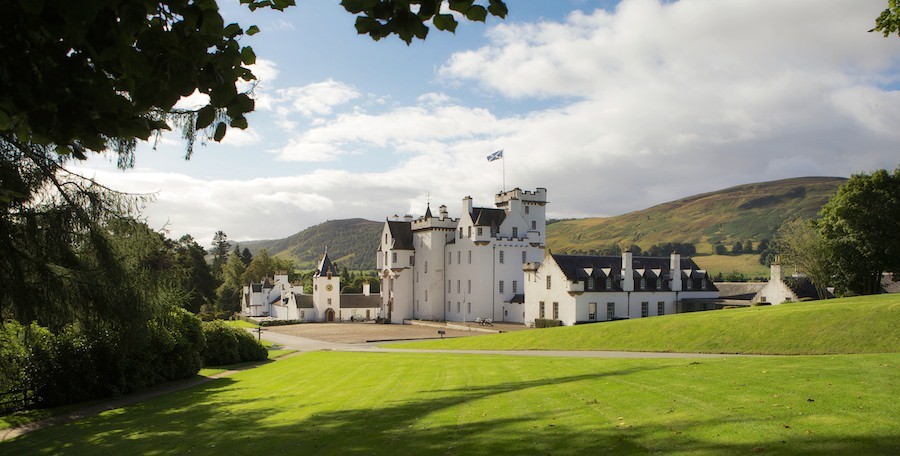 Day five of your private tour begins with a journey from Inverness through the center of Scotland to visit Blair Castle – the ancestral home of the Clan Murray – near the town of Blair Atholl. Your group can go on a private tour of the castle with your guide, learning about its fascinating history and historical significance before you continue your tour with a visit to the charming town of Pitlochry.

One of Scotland's most beautiful and vibrant towns to visit, Pitlochry is largely a well-preserved Victorian-era town and offers visitors an incredible glance back in time. You'll spend an hour or two exploring the town and its quaint shops and restaurants before your tour continues with a visit to Dunkeld Cathedral (founded back in 1260).

Once your group's explored the cathedral and beautiful gardens, your driver-guide will take you back to Pitlochry where you'll find your accommodation for the night.
Day 6: St Andrews & Forth Bridges or Stirling Castle & Falkirk Wheel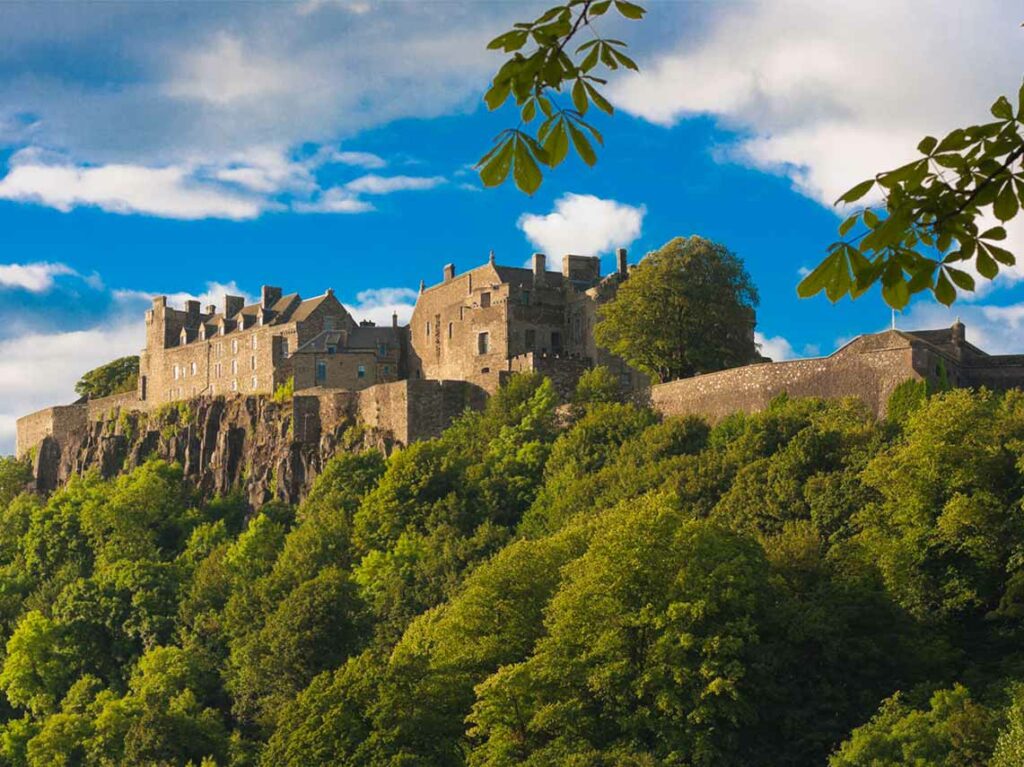 On the second last day of your tour with us, we thought we'd give you the choice of two fantastic days and let you choose between them:
Option 1: St Andrews & The Forth Bridges
The first option for day six is a tour of the historic 'Home of Golf': St Andrews.
You'll begin your day with a visit to the Old Course – where it is said that the first game of Golf was played back in the 15th century – before exploring St Andrews Cathedral which was once the largest church in Scotland. Unfortunately, the cathedral is now largely ruins apart from St Rule's Tower which offers visitors a wonderful view out to Scotland's east coast.
If you have time in the day we'll also stop at the town's famous university before continuing our tour by crossing the famed Forth Road Bridges en route to Edinburgh – where you'll spend the night ahead of your final day in Scotland!
Option 2: Stirling Castle & The Falkirk Wheel
The second choice for day six is a visit to the incredible Stirling Castle. Your driver-guide will take you on a fascinating tour of the castle, explaining some of its turbulent history and significance to the people of Scotland.
Notable nearby attractions – especially for any interested amateur historian – include the Wallace Monument and the Old Town Jail.
Following your tour of the Stirling Castle, your driver-guide will take you on a short drive to the Falkirk Wheel – an amazing rotating boat lift that connected two canals in central Scotland – before arriving at your accommodation in Edinburgh City Center.
Day 7: Edinburgh Castle - Holyrood Palace - New & Old Towns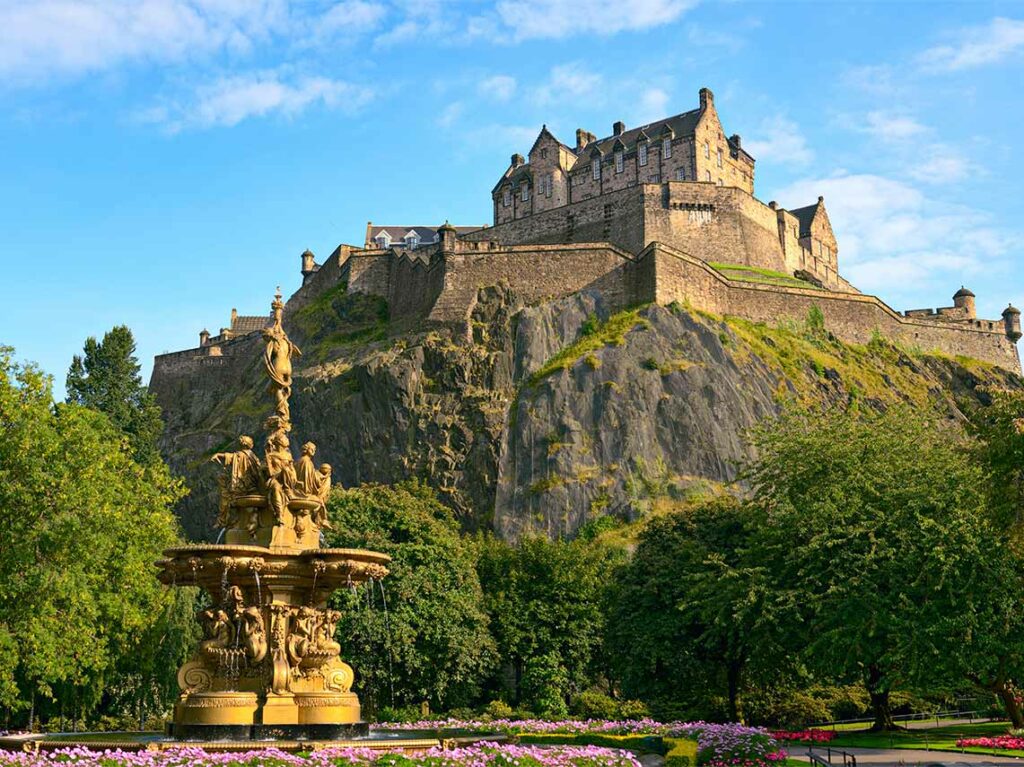 On the final day of your tour of Scotland, we focus our attention on our country's historic capital: Edinburgh.
With so much to see and do in Edinburgh, we waste no time in the morning of day seven, starting with a visit to the city's famous castle. Your driver-guide will give you a private tour of Edinburgh Castle where you'll learn more about the castle's importance and fascinating history before we continue our journey with a tour of the impressive Holyrood Palace.
Located at the bottom of Edinburgh's famous Royal Mile, Holyrood Palace has served as the residence of the Kings and Queens of Scots since the 16th century – however, is now predominately used for special state occasions and official entertaining (as well as guided tours of course). Most notably, we'll visit the 16th historic apartments of Mary Queen of Scots which are opened to the public throughout the year apart from when being occupied by members of the Royal Family.
Finally, we'll take a short tour of the city's old and new towns in your luxury vehicle – stopping to pick up any last-minute gifts or mementos from your time with us in Scotland – before you're delivered to the airport in time for your flight and just as quickly as it started, your week-long private tour with us comes to a close.
Your driver-guide will accompany you to your check-in desk to ensure you make your flight before bidding you farewell, leaving you I'm sure with treasured memories of your time with us as well as a new Scottish friend in your driver-guide!
Our Clients Loved Their Private Tour Experience
If you are short of time, look no further, this is the guide and trip you want, otherwise, continue ready for the many reasons to follow. John is an extraordinary guide with a wealth of knowledge and an easy-going good-humored personality. He's an excellent driver, which you will come to realize is quite important! He's flexible and constantly readjusts itineraries as he comes to know his clients. We saw about 2 weeks of Scotland in 6 days! He knows all the secret spots to show you the real Scotland it's glorious. I give him and Braw Scottish Tours my very highest rating and thanks for a tremendously enjoyable vacation.
★★★★★
Wane & Lee
Our time with John at Braw was an enormous success because he took the time to get to know us; he has a deep and broad knowledge of sightseeing in Scotland, and he took special care to accommodate the special needs of my husband with respect and compassion. This special care included the timing for different sightseeing venues; finding wheelchairs, etc. I cannot begin to adequately sing the praises of John as an informed tour guide, a competent driver, and a thoughtful companion. We both had a wonderful time in John's company and look forward to a return visit to Scotland with Braw!
★★★★★
Judy
My wife and I spent over a week with Braw crossing the Highlands. Their ability to customize a tour to your individual needs is a result of their extensive knowledge of Scotland. We had a wonderful time touring with our guide and getting a locals perspective rather than traveling in a large group. We look forward to returning soon.
★★★★★
Tom H
We used Braw Scottish tours for a driver and guide on a recent trip to Scotland. We visited the Highlands, Skye, and Lewis & Harris and had an amazing time thanks to their attention to detail! John and Braw Scottish Tours took great pride in making sure we had a first-class experience for our entire journey. They made sure we had great accommodations, food, and even tailored stops along the way to our interests. Our driver was professional, knowledgeable, and witty and I wholeheartedly recommend Braw to anyone. We're already planning our next trip!
★★★★★
Lee & Larissa
Get a Custom Driver Guided Tour Itinerary
All our tours are completely customizable and tailor-made to suit you and your group's needs, just fill in the form below and tell us what you want to do and how long you'll be visiting us and our tour experts will do the rest.
Even if you don't know where you want to start and would like some inspiration, fill in your contact details below and your personal tour expert will be in touch to help you plan your perfect vacation in Scotland.
Prices from £600 per day per group
itineraries you might like