3 Day Private Tour of Scotland Itinerary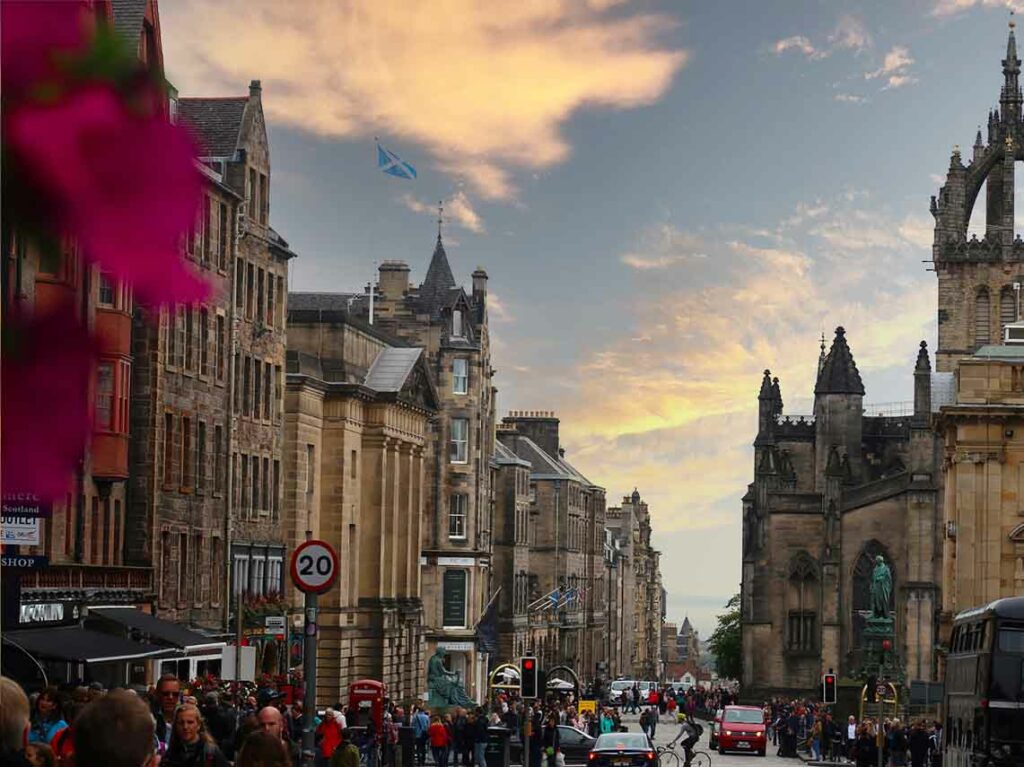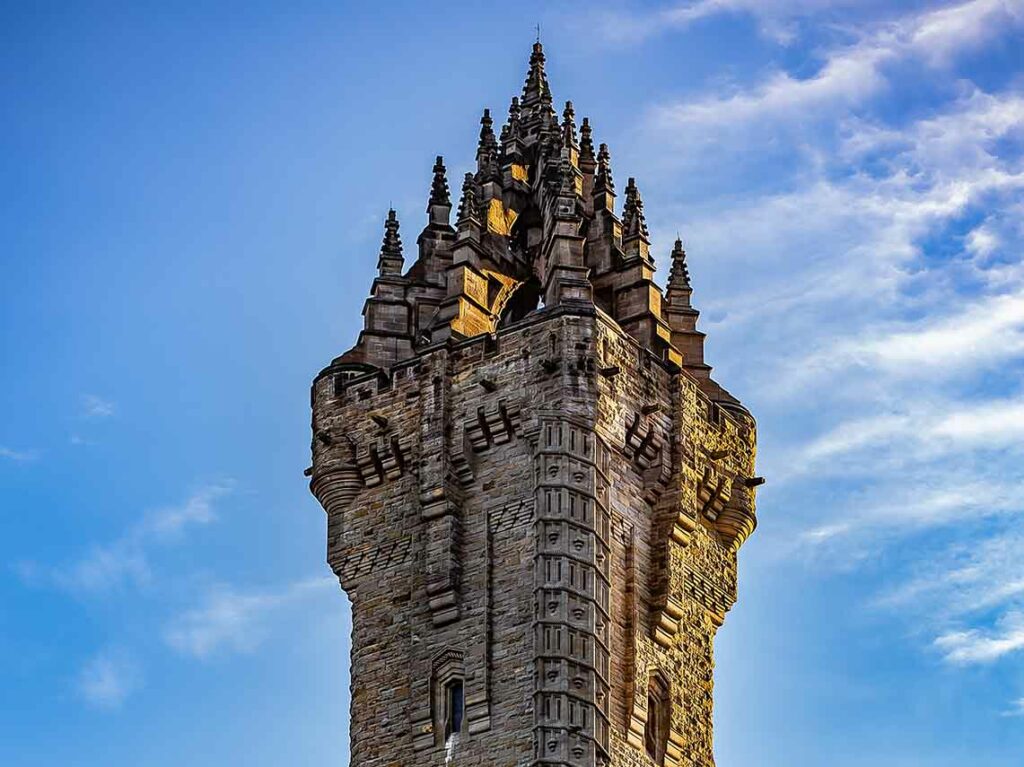 Private Tours of Scotland tailored To Suit You
The itineraries we offer on our site are a template, where we hope you can find out more about what you'd like to do and see in Scotland, before getting in touch with our expert travel planners to design you a fully customized and truly unforgettable private tour!
Day 1: Full Day Edinburgh Tour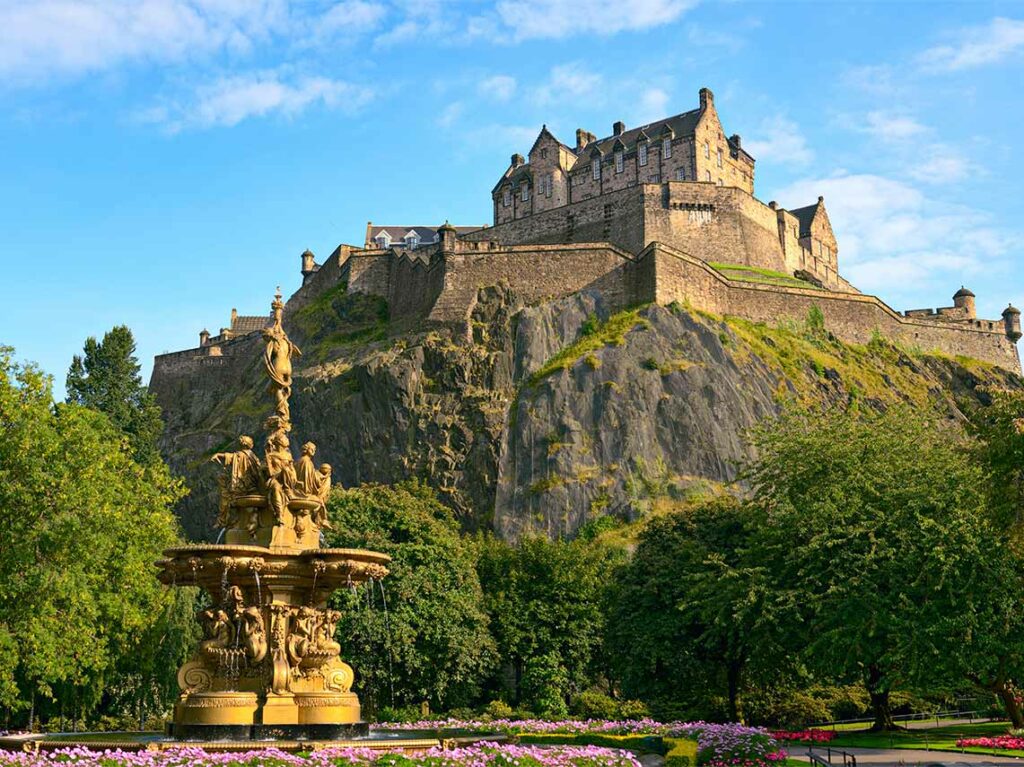 Your Braw Tour of Scotland begins as you are collected in Edinburgh, Capital of Scotland by your driver-guide.
Edinburgh lies on the East coast of Scotland, built upon a group of hills, and has a medieval old town and exquisite Georgian new town with gardens and neoclassical buildings that loom over the city.
You can choose to do 1 or 2 of the following.
Proudly overlooking the nation's capital city, we will visit Edinburgh Castle, one of the oldest, attractive and interesting fortified places in Europe. Alongside hosting the Scottish Crown Jewels and the Stone of Destiny, each section of the Castle has an exciting tale to tell, whether that's as a Royal residence, military garrison, or more ominously, as a prison and fortress. 
Next on our Edinburgh tour, we can visit the glorious Holyrood Palace – the official residence of the British monarch in Scotland, Queen Elizabeth II. 
We'll spend an hour or so exploring the palace – including the 16th-century historic apartments of Mary, Queen of Scots – and its impressive surrounding grounds.
Continuing our Edinburgh adventure, we'll visit perhaps one of the most famous (unsunk) ships in the world: The Royal Yacht Britannia. 
This former floating palace spent 43 years traveling more than a million nautical miles around the globe in service of Her Majesty The Queen before (thankfully for us) being permanently berthed in Edinburgh – allowing the public to tour and explore this magnificent piece of engineering history. 
Next, we can take a stroll along the winding paths and cobbled streets of the Royal Mile the main thoroughfare of the Old Town.
Finally, we can visit Arthur's Seat: an extinct volcano and is the main peak of the group of hills in Edinburgh. We can drive straight over the top of this hill (or you may enjoy a short hike instead) where we shall have wonderful views of the city.
After a long day exploring many of Edinburgh's sites, we head back to your accommodation for the evening. 
Day 2: Day Trip From Edinburgh to Falkirk & Stirling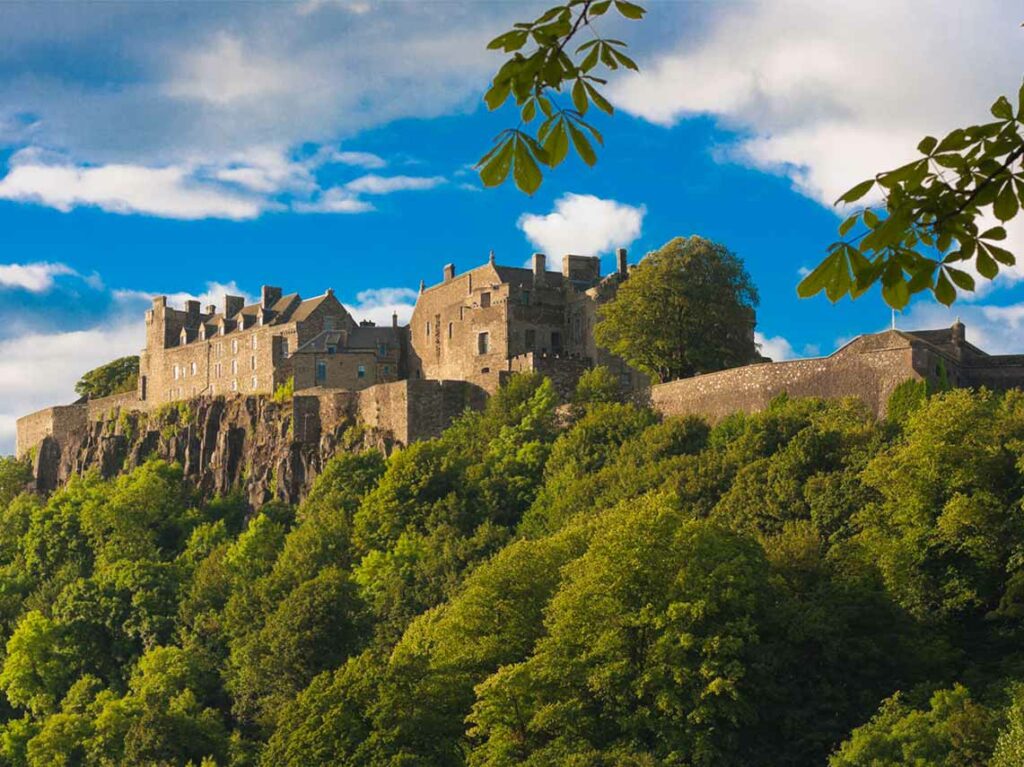 Your second day we will depart Edinburgh and have a day trip to Stirling, stopping at some attractions along the way and in the town.
As we depart Edinburgh we can stop for some photographs at the Kelpies (shape-shifting water spirits) – the largest equine sculptures in the world standing at 30-meter-high horse head sculptures which are a true feat of engineering.
Falkirk Wheel Visitor Centre
Moving on we will visit the Falkirk Wheel is the world's first and only rotating boat lift, designed and built to connect the Forth & Clyde Canal and the Union Canal which allows coast to coast navigation across central Scotland. 
The magnificent structure stands 115ft tall and requires only the power of eight domestic kettles to sailboats through the air and transfer them between the two canals. The Falkirk Wheel has not only been described as a feat of engineering but as a work of art and is now an iconic Scottish landmark attracting over 500,000 visitors a year.
Next, we'll head to Stirling Castle: one of Scotland's most historically important sites which was once a favored residence of the Stewart kings and queens who held grand celebrations at the castle. 
In its grandeur with its superb sculptures and beautiful gardens. You can meet the costumed characters in the roles of bodyguards, court officials, maids of honor, and servants who will welcome you into 16th-century life. If you want you can also dress in a period costume and play medieval instruments. 
Other highlights include the Great Hall, Chapel Royal, Castle Exhibition, Regimental Museum, Great Kitchens, Tapestry Studio, and the nearby Argyll's Lodging, a 17th-century townhouse.
National Wallace Monument
Above the fields where the famous martyr led his Scottish troops to victory against the English forces at The Battle of Stirling Bridge stands the William Wallace Monument built in 1869.
While many will be familiar with Wallace's exploits from the Hollywood movie, "Braveheart", inside the monument you can find out all about Wallace's real-life tales intertwined, of course, with the story of the struggle for Scottish Independence.
You will also be able to examine the Wallace sword said to have been used by the man himself in battle. If you make it all the way up the 246 steps of the spiral stairs to the top of the Monument, you will be rewarded with fantastic views over Stirling.
You will then be escorted back to Edinburgh for the evening.
Perfect!!! The best tours we have ever experienced. It was the best experience we ever had; the guides were extremely knowledgeable and just fun to be with. They couldn't do enough for us and were so reliable.
Day 3: St Andrews Day Tour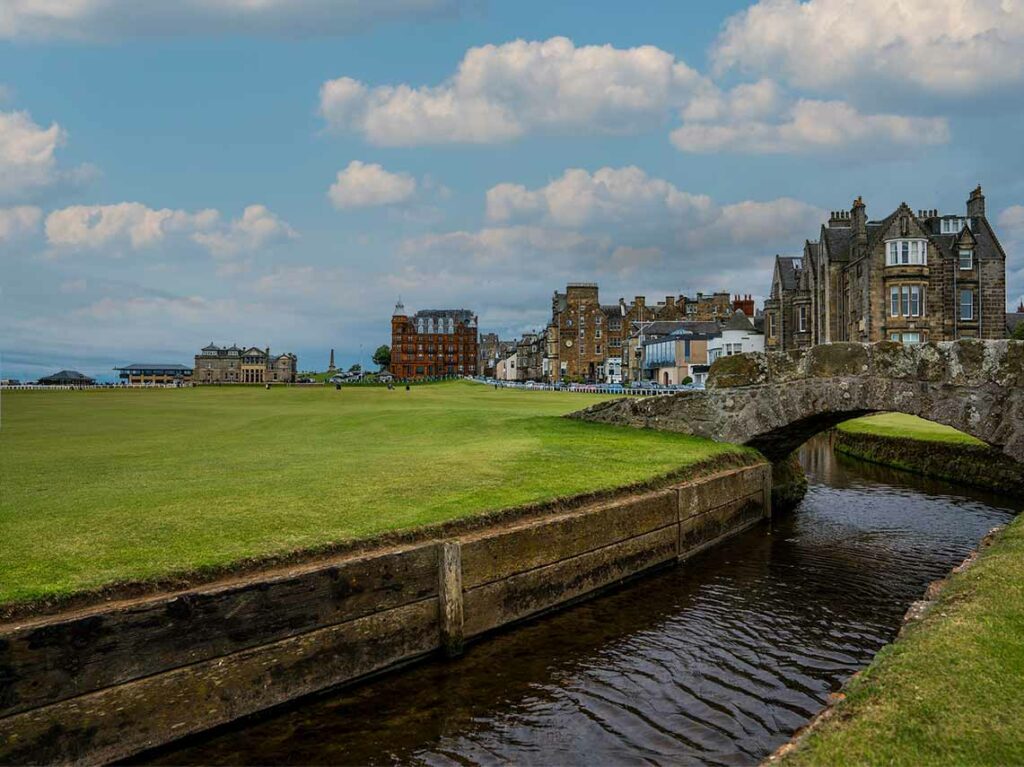 Your final day we will have a trip to the historic town of St Andrews.
As we depart Edinburgh we'll cross over the newly built Queensferry Crossing where we will see 3 magnificent bridges which span the river Forth. Each of these bridges was built in a different century!
Next is Pittenweem: a fishing village that oozes charm. The harbor is a magnet for visitors. Photographers can take their pick between the brightly hulled fishing boats, or the jumble of red pantiled or grey slatted houses.
Next, we will pass through Anstruther, a busy, seaside village which is most famous for its award-winning fish and chips which taste even better eaten in the fresh air overlooking the lovely harbor.
St Andrews is a charming and historic town that attracts visitors from all over the world. St Andrews is known worldwide as The Home of Golf, and also boasts Scotland's oldest university.
St Andrews University, founded in 1410, dominates the center of town. The elegant, ivy-clad buildings and delightful quadrangles and gardens have seen a procession of famous graduates such as Prince William. One of the top universities in Britain, St Andrews is often compared to Oxford and Cambridge for its defining presence and the collegiate feel it gives to the town.
The Medieval center of St Andrews consists of a series of narrow alleys and cobbled streets with shops, restaurants, and cafés. Explore the castle, the now ruined cathedral, and the adjacent church of St Regulus, where you can climb the spiral staircase to the top of the 108 ft tower for magnificent views of the town and its surroundings.
Finally, after your explorations of the town are complete we will return to Edinburgh where alas, all good things must come to an end as we say our goodbyes until the next adventure.
Our Clients Loved Their Private Tour Experience
If you are short of time, look no further, this is the guide and trip you want, otherwise, continue ready for the many reasons to follow. John is an extraordinary guide with a wealth of knowledge and an easy-going good-humored personality. He's an excellent driver, which you will come to realize is quite important! He's flexible and constantly readjusts itineraries as he comes to know his clients. We saw about 2 weeks of Scotland in 6 days! He knows all the secret spots to show you the real Scotland it's glorious. I give him and Braw Scottish Tours my very highest rating and thanks for a tremendously enjoyable vacation.
★★★★★
Wane & Lee
Our time with John at Braw was an enormous success because he took the time to get to know us; he has a deep and broad knowledge of sightseeing in Scotland, and he took special care to accommodate the special needs of my husband with respect and compassion. This special care included the timing for different sightseeing venues; finding wheelchairs, etc. I cannot begin to adequately sing the praises of John as an informed tour guide, a competent driver, and a thoughtful companion. We both had a wonderful time in John's company and look forward to a return visit to Scotland with Braw!
★★★★★
Judy
My wife and I spent over a week with Braw crossing the Highlands. Their ability to customize a tour to your individual needs is a result of their extensive knowledge of Scotland. We had a wonderful time touring with our guide and getting a locals perspective rather than traveling in a large group. We look forward to returning soon.
★★★★★
Tom H
We used Braw Scottish tours for a driver and guide on a recent trip to Scotland. We visited the Highlands, Skye, and Lewis & Harris and had an amazing time thanks to their attention to detail! John and Braw Scottish Tours took great pride in making sure we had a first-class experience for our entire journey. They made sure we had great accommodations, food, and even tailored stops along the way to our interests. Our driver was professional, knowledgeable, and witty and I wholeheartedly recommend Braw to anyone. We're already planning our next trip!
★★★★★
Lee & Larissa
Get a Custom Driver Guided Tour Itinerary
All our tours are completely customizable and tailor-made to suit you and your group's needs, just fill in the form below and tell us what you want to do and how long you'll be visiting us and our tour experts will do the rest.
Even if you don't know where you want to start and would like some inspiration, fill in your contact details below and your personal tour expert will be in touch to help you plan your perfect vacation in Scotland.
Prices from £600 per day per group
itineraries you might like